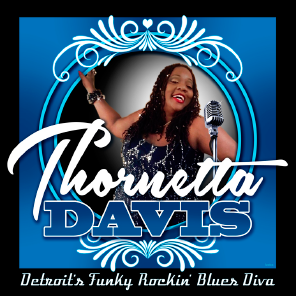 Crowned "Detroit's Queen of the Blues" in 2015, Thornetta Davis a multi-talented International Singer and Songwriter from Detroit MI, USA is the Winner of over 30 Detroit Music Awards. Thornetta has been exciting and wowing audiences all over the world. Her voice is strong, commanding, melodic and smooth. She tells her stories with incredible delivery and leaves her audiences wanting more. Backed by her great band of Detroit Musicians.
She first gained attention in 1987 when she became back up singer for the Detroit soul band "Lamont Zodiac and The Love Signs". Shortly after, the lead singer left the band and the name changed to "The Chisel Brothers featuring Thornetta Davis". In 1996 Thornetta recorded her first solo album "Sunday Morning Music" on the Seattle based label "Sub Pop" which received a rave revue in the national Entertainment Weekly magazine. Her song "Cry" from that album was featured on the HBO hit "The Sopranos".
Thornetta has opened for legendary blues and R&B greats such as Ray Charles, Gladys Knight, Smokey Robinson, Etta James, Buddy Guy, Koko Taylor, Junior Wells, Lonnie Brooks, Johnnie Johnson and many more…her history is extensive and her performances are memorable…like the time she opened for Bonnie Raitt at Michigan's Ann Arbor Blues & Jazz festival in 1992. Bonnie asked Thornetta to join her and Katie Webster (queen of the swamp boogie) for an encore song which received a standing ovation.
In 1999 Thornetta brought down the house with her astounding performance at the "Lillith Fair" at Michigan's Pine Knob Music Theatre hosted by Sarah Mclachlan…that same evening she attended the "Detroit Music Awards" where she proudly accepted 2 of the over 30 Music Awards that she has won over the last 20 years for "Best R&B/ Blues vocalist" and "Best R&B Group".
In 2000 Thornetta opened the VH1 Vogue fashion awards at Madison Square Garden with Detroit phenomenon Kid Rock. New York's star-studded event captured Detroit's "Princess of the Blues" in all her glory!
 In 2001 Thornetta Davis is inducted into the Detroit Music Hall of Fame! Thornetta performed on Wednesday nights for 7 years at one of Detroit's favorite live music venues "The Music Menu" located in Greektown in downtown Detroit until it's closing in 2003. Three years before that final Wednesday, Thornetta recorded a live performance on one magical night at the "Menu" and called it "Thornetta Davis covered Live at the Music Menu". This CD is a collection of Thornetta's most requested cover tunes. The
magic comes through and touches you and makes you feel like you're right there watching her as she takes you on a spiritual journey to the depths of her soul. "Thornetta Davis covered Live at the Music Menu" won "Best R&B/ Blues Recording" at the Detroit Music Awards 2002.
In 2006 Detroit's "Princess of the Blues" appeared again with Kid Rock during the Super Bowl week on "Jimmie Kimmel Live". In 2007 Thornetta performed with Bob Seger and the Silver Bullet Band and took a bit out of the "Big Apple" on "The View" and "The David Letterman Show".
Thornetta has electrified audiences world wide with tours to Italy, Blues festivals in Tunisia North Africa, Lucerne Switzerland, Sweden, Paris France, Norway, Germany, Holland, England and Canada .
Here's a few of Thornetta's accomplishments.
2016- COMPLETED THE PRODUCTION OF HER CD "HONEST WOMAN"
2016- PERFORMED FOR ON THE PBS GALA "DETROIT PERFORMS" https://youtu.be/F8COv6EXskY
2016- PERFORMED THE #1 SONG WITH GRAMMY AWARD WINNING PRODUCER DON WAS ON THE DETROIT'S 100 BEST SONGS @ THE CONCERT OF COLORS
OCT-2015- PERFORMED AT THE APHRODITE WOMEN'S TRAINING CONFERENCE IN LOS ANGELES, CA WITH MARIANNE WILLIAMSON
SEP-2015 APPEARED ON BACKSTAGE PASS  http://video.wkar.org/video/2365677406/
AUG-2015- CROWNED "DETROIT'S QUEEN OF THE BLUES" BY THE DETROIT BLUE SOCIETY WITH PROCLAMATIONS FROM THE CITY OF DETROIT, WAYNE COUNTY AND THE STATE OF MICHIGAN
MAY 2015 – AWARDED BEST BLUES/R&B VOCALIST AT THE DETROIT MUSIC AWARDS
2014- THORNETTA WAS FEATURED AS SPECIAL GUEST IN A PBS "AMERICAN MUSIC RESEARCH FOUNDATION" DOCUMENTARY ABOUT BLUES MUSIC HISTORIAN COREY HARRIS.
July 2014 -Thornetta Produced and Performed Her show AT ORCHESTRA HALL for the Concert of Colors w/ The Detroit Symphony Orchestra conducted by Grammy Award winning John McLaughlin Williams.
2013 – SPIRIT OF DETROIT AWARD RECIPIENT FOR PLOWSHARES THEATRE PRODUCTION OF "THE DIVA PROJECT"
2013 – PERFORMED IN THE PLOWSHARES PRODUCTION "THE DIVA PROJECT" WHICH PAID TRIBUTE TO LEGENDARY WOMEN SINGERS, PAST AND PRESENT.
2013 – PERFORMED THE USA AND CANADIAN NATIONAL ANTHEM ON INTERNATIONAL TELEVISION FOR THE NHL WINTER CLASSIC
2012- OPENED FOR THE KING OF THE BLUES B.B.KNG AT THE FOX THEATRE DETROIT
2012- INDUCTED INTO THE CANADA SOUTH BLUES HALL OF FAME MUSEUM
2011- PERFORMED IN THE PLOWSHARES THEATRE PRODUCTIONS OF 
"JAZZ BIRTH OF THE COOL"
2009 – AWARDED BEST BLUES VOCALIST AT THE "DETROIT BLACK MUSIC AWARDS"
2009- RECIPIENT OF DETROIT BLUES SOCIETY LIVING LIFETIME ACHIEVEMENT AWARD
2008 – RELEASED SELF PRODUCED CD "REMEMBER LOVE ON CHRISTMAS DAY"
2007 – Performed on Bob Seger's CD "Face the Promise" ALSO PERFORMED WITH BOB SEGER ON "THE VIEW" AND "DAVID LETTERMAN"
2007- PERFORMED BACKGROUND ON Kid Rock's triple platinum album "Rock and Roll Jesus"
2006 – PERFORMED IN THE LUCERN SWITZERLAND BLUES FEST AS APART OF THE DETROIT BLUES LEGENDS LINEUP.
2006- Appeared with Kid Rock during the Super Bowl week on "Jimmie Kimmel Live".

2005 – PERFORMED HER FIRST 3 WEEK CONCERT TOUR IN ITALY
2003 – Performed background on Kid Rock his self titled CD "KID ROCK"
2002 – WON DETROIT MUSIC AWARDS FOR "BEST BLUES RECORDING "THORNETTA DAVIS COVERED LIVE @ THE MUSIC MENU"
2001-2002 – Chosen to sing and act in the Michigan State Lottery commercials "BACK PAIR PAYOUT" and "FRONT PAIR PAYOUT"
2001-2002- Thornetta was chosen to SING AND ACT IN the DETROIT PISTONS "GOING TO WORK AD CAMPAIGN
2001- Thornetta's powerful singing voice has been heard on the hit television show "Xena Warrior Princess".
2001 Her Cadillac commercial aired for the first time during the Academy Awards

2001 – Thornetta performed on the soundtrack for the film "Osmosis Jones" SONG PRODUCED BY KID ROCK FILM starring Bill Murray.
2001- PRODUCED AND RELEASED 2ND SOLO ALBUM "THORNETTA DAVIS COVERED LIVE @ THE MUSIC MENU" WHICH WON BEST BLUES ALBUM 2001 "DETROIT MUSIC AWARDS"
1999 – WON THE OPPORTUNITY TO PERFORM AT PINE NOB IN THE SARAH MCLACHLAN LILITH FAIR WITH BONNIE RAITT, AND MESHELL NDEGEOCELLO
1997- THE SONG "CRY" FROM HER CD "SUNDAY MORNING MUSIC" WAS FEATURED ON THE FIRST SEASON OF HBO HIT SERIES "THE SOPRANOS"
1996 – RELEASED MY FIRST SOLO ALBUM "SUNDAY MORNING MUSIC" ON THE SEATTLE BASED LABEL SUB POP
1995 – RECORDED WITH Sub pop recording artist "alternative rock band "Big Chief" on the album "Mack Avenue Scull Game"
1991 – Thornetta performed background vocals for Bob Seger on his album "The Fire Inside"
1991- RECORDED WITH Little Steven VanZandt OF (BRUCE SPRINGSTEEN'S BAND) WHEN HE produced THE U.S. debut of Nigerian reggae artist Majek Fashek, on THE ALBUM "Spirit of Love"
1992 – OPENED FOR AND PERFORMED WITH BONNIE RAITT AT THE ANN ARBOR BLUES AND JAZZ FESTIVAL
1991- WON THE FIRST OF OVER 25 "DETROIT MUSIC AWARDS" FOR BEST BLUES VOCALIST
1987- BECAME THE LEAD SINGER IN " THE CHISEL BROTHERS FEATURING THORNETTA DAVIS" BAND